Posted by Admin | Wednesday, June 1, 2011
0 comments
MyEventViewer v1.61
is a free software alternative to the standard event viewer of Windows. As oppose to Windows event viewer,
MyEventViewer
allows you to watch multiple event logs in one list, as well as the event description and data are displayed in the main window, instead of opening a new one. Also, with MyEventViewer you can easily select multiple event items and then save them to HTML/Text/XML file, or copy them to the clipboard (Ctrl+C) and then paste them into Excel.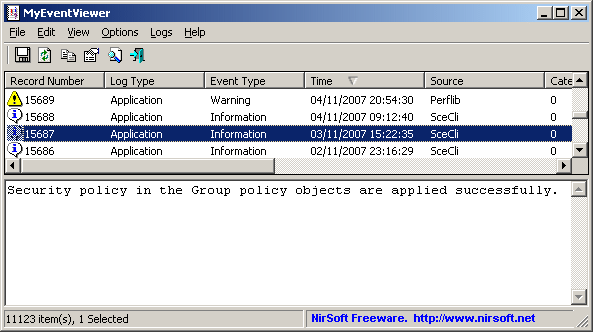 MyEventViewer v1.61 New Features :
Added option to load only the last xx events from every event log. (In the 'Advanced Filter' window)
Added 'Put Icon On Tray' option.
Added 'Tray Balloon On New Event' (works only when 'Put Icon On Tray' is turned on). When this option is turned on, and 'Auto Refresh' mode is enabled too, Every new event detected by MyEventViewer is displayed inside a tray balloon.
Download :
MyEventViewer v1.61